WHEN A TAPROM REGULAR ASKS YOU TO MAKE THIS, YOU MAKE IT!
Well, you make 100 and hope that's enough. Yup, the Father's Day Brew Bundle has arrived (in a beautiful box with $60 in gift cards, an Atlas keychain, and a six pack on the side).

YUP, $60 IN GIFT CARDS, A KEYCHAIN + A 6-PACK FOR JUST $59.99

The Father's Day Brew Bundle comes with a $10 bonus gift card for the gift giver and three different six-pack variations to choose from. Thank us? No, no, thank YOU for taking care of Pops on his favorite day of the year!
Hop Head...3 Ponzi + 3 Dance of Days
Lager Lover...3 Bullpen Pilsner + 3 District Common
OTHER WAYS TO GET OUR BEER
You can get our beer delivered with DoorDash and UberEats, or visit one of the 2,000+ bars, restaurants and grocery stores in the DMV supporting our brewery.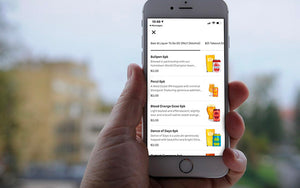 UBEREATS
Now offering our entire draft and canned beer line up when you order delivery from our Ivy City location.
DOORDASH
Get our entire draft beer line up plus delicious pizza from Andy's delivered from our Half Street location.