ATLAS TAPROOM GIFT CARDS!
Give the gift of delicious Atlas beer to someone you love! Taproom gift cards work at both Atlas locations when you visit in-person to enjoy any of our beers on tap or in the can for here or to-go. Taproom gift cards can also be used to purchase Atlas merch available at our taprooms as well as wine, cocktails and Andy's Pizza (at our Half Street location).
Atlas gift cards are available in four denominations and two different color combinations, Dance of Days and Ponzi. Please note that taproom gift cards cannot be used to pay for beer club memberships or beers ordered online for direct shipping.
OTHER WAYS TO GET OUR BEER
You can get our beer delivered with DoorDash and UberEats, or visit one of the 2,000+ bars, restaurants and grocery stores in the DMV supporting our brewery.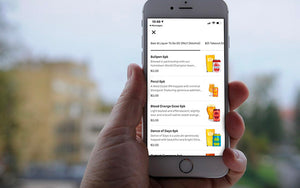 UBEREATS
Now offering our entire draft and canned beer line up when you order delivery from our Ivy City location.
DOORDASH
Get our entire draft beer line up plus delicious pizza from Andy's delivered from our Half Street location.