Brewer's Private Stock – 750ml 3 Pack
Large-format bottles (750ml) of 202, Le Saison de Brett and Sunny Honey Saison together for the first time in one limited edition box.

202
Brett Golden ale aged in oak barrels. Funky, fruity, and light bodied. Using the Bullpen Pilsner as a base, we added Brettanomyces and aged the beer for 8 months in oak barrels making a light, quaffable, barrel-aged beer
ABV 5.5%
IBU 14.0

SRM 3.0

OG 11°

LE SAISON DE BRETT
Complex barrel aged Belgian made with Brettanomyces. To make Saison de Brett, we start with our La Saison des Fêtes that balances spicy French hops, aromatic European malt, and a unique Belgian yeast. Next we rack the beer into local red wine barrels, add a bit of wild Brettanomyces yeast, and age for 12 months. The result is a complex, funky beer that is amazing when released and will change in flavor if cellared properly.
ABV: 7.1%
IBU: 25

P: 15.4
SUNNY HONEY SAISON
A collaborative beer made using honey harvested from solar farms that use pollinator-friendly plants as ground cover under and around the panels to help save the bees. This Brett Saison with Solar Grown Honey pours a soft, hazy orange color. Honeysuckle up front gives way to softer aromas of marshmallow, passionfruit, and beeswax. Solar Grown honey contributes honey flavors and a mild acidity. Atlas' blend of yeast lends notes of white peach and apple.

ABV: 7.3%
IBU: 28

P: 15.3
OTHER WAYS TO GET OUR BEER
You can get our beer delivered with DoorDash and UberEats, or visit one of the 2,000+ bars, restaurants and grocery stores in the DMV supporting our brewery.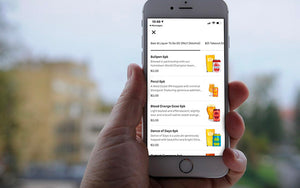 UBEREATS
Now offering our entire draft and canned beer line up when you order delivery from our Ivy City location.
DOORDASH
Get our entire draft beer line up plus delicious pizza from Andy's delivered from our Half Street location.