A CRIMINALLY HOPPY WEST COAST IPA MADE WITH FIVE HOP VARIETALS
A West Coast IPA hopped with criminal disregard. Featuring generous additions of Cascade, Chinook, Centennial, Mandarina and Amarillo hops, followed by hints of Munich malt, Ponzi's aroma writes checks that its flavor cashes. If it seems too good to be true, you're probably drinking Ponzi.
ABV: 7.3%
IBU: 62

P: 16.5
BEHIND THE NAME
Ponzi features a Charles Ponzi stamp press on its label. Looking to get rich quick? A true maker of fortunes, a creator of wealth, this now still press was once a busy accomplice to a unique scheme you may be familiar with. Yearning to crank out more postage, the press now idly sits awaiting its next great scheme. Invest now and be rich later…much later.
OTHER WAYS TO GET OUR BEER
You can get our beer delivered with DoorDash and UberEats, or visit one of the 2,000+ bars, restaurants and grocery stores in the DMV supporting our brewery.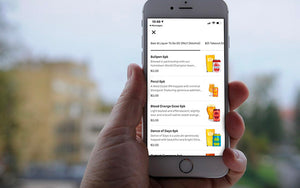 UBEREATS
Now offering our entire draft and canned beer line up when you order delivery from our Ivy City location.
DOORDASH
Get our entire draft beer line up plus delicious pizza from Andy's delivered from our Half Street location.