BARREL-AGED BRETT BARLEYWINE
Big bodied and complex, this barleywine was aged for 8 months in Virginia red wine barrels with two strains of brettanomyces. Rich, ruby red in color, with enough thickness to coat the glass. The aroma brings a mix of fig, maraschino cherry, honey and horse blanket, with mild notes of toffee and alcohol. The flavor is a heavy bouquet of sticky dark fruit - fig and black cherry - mixed with sweet caramel and toffee flavors.
ABV: 10%
IBU: 45

SRM: 12.1
OG: 26.3
OTHER WAYS TO GET OUR BEER
You can get our beer delivered with DoorDash and UberEats, or visit one of the 2,000+ bars, restaurants and grocery stores in the DMV supporting our brewery.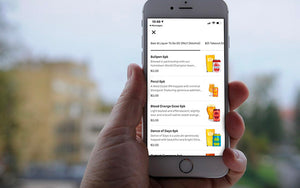 UBEREATS
Now offering our entire draft and canned beer line up when you order delivery from our Ivy City location.
DOORDASH
Get our entire draft beer line up plus delicious pizza from Andy's delivered from our Half Street location.