The Spirit of Silent Neighbor - Limited Run *Pickup Only*
BARREL-PROOF DISTILLED SILENT NEIGHBOR STOUT *No Shipping*
We teamed up with our buds in Ivy City, District Made Spirits, to distill a batch of our award winning Silent Neighbor Stout into a spirit (technically according to our regulatory overlords in the Federal Gov (we can't call it a "whiskey" because it contains hops, but you get it right?). The spirit spent over 3 years in an Independent Stave Company 18-month dry aged American oak char #3oak barrel before being bottled at barrel-strength into individually numbered bottles.
The result: a barrel-proof (122 proof) deep whiskey-ish spirit that finsihes smooth and has brings the complex roastiness flavor of Silent Neighbor Stout. Only 120 750ml Bottles exist and this spirit will never be made again.
OTHER WAYS TO GET OUR BEER
You can get our beer delivered with DoorDash and UberEats, or visit one of the 2,000+ bars, restaurants and grocery stores in the DMV supporting our brewery.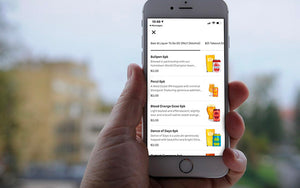 UBEREATS
Now offering our entire draft and canned beer line up when you order delivery from our Ivy City location.
DOORDASH
Get our entire draft beer line up plus delicious pizza from Andy's delivered from our Half Street location.