THE FAN | NAVY YARD PICKUP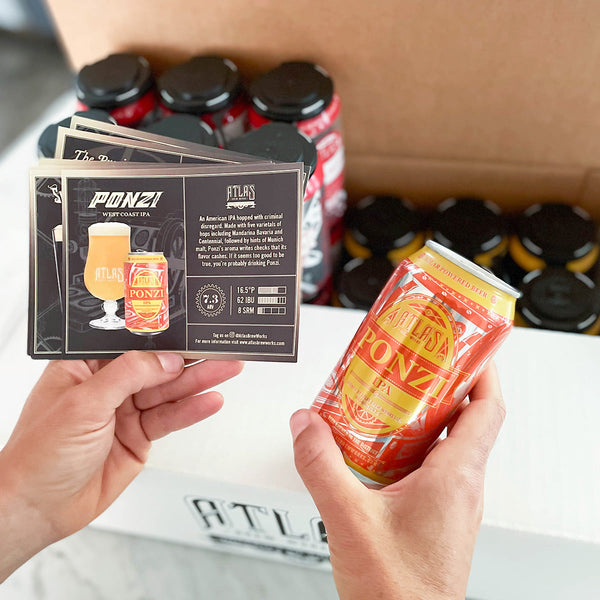 18 CANS EVERY 3 MONTHS FOR PICKUP AT ATLAS HALF STREET + 15% OFF TAPROOM DRAFTS
Our next subscription drop featuring Dingle Dunkle and Giant Flaming Zombie Polar Bear is available for pickup at Atlas Navy Yard during business hours November 13th thru November 19th.
—
Enjoy 18 beers for pickup at your Atlas Brew Works taproom of choice every 3 months. Your exclusive 18-pack quarterly subscription will include six core beers, six seasonal beers and six exclusive limited-release beers. As an Atlas Beer Club "Fan" you will also receive 15% off taproom drafts at both Atlas locations in addition to the following:
✓ One complimentary draft pint when you pick up your beer club variety pack
✓ Half-price flights for you and a guest (max 1 flight/ea per visit)
✓ 15% off special event tickets
✓ 15% off kegs to-go
✓ 15% off brewery event space rentals 
✓ Early access to limited release beers
✓ Exclusive access to members-only happy hours
Within 72-hours of purchasing your Atlas Beer Club membership online, you will receive an email letting you know that your taproom perks are active. To take advantage of your member perks once active, simply provide a bartender (at our main bar in each taproom) with your name and email. Please note that you will be billed for for your first subscription variety pack right away, and will not be billed again when your first quarterly variety pack ships out. Your second billing date will occur on when your second quarterly variety pack is being prepared for shipment.
Have a question about Atlas Beer Club? Check out our handy dandy FAQ.
OTHER WAYS TO GET OUR BEER
You can get our beer delivered with DoorDash and UberEats, or visit one of the 2,000+ bars, restaurants and grocery stores in the DMV supporting our brewery.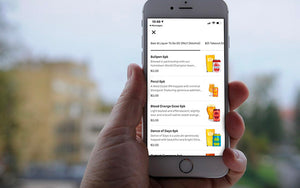 UBEREATS
Now offering our entire draft and canned beer line up when you order delivery from our Ivy City location.
DOORDASH
Get our entire draft beer line up plus delicious pizza from Andy's delivered from our Half Street location.