SIXTELS OF YOUR FAVORITE ATLAS BREWS
Tax included in the price shown ☞ 
Reserve a sixth bbl of Blood Orange Gose, Bullpen Pilsner, Dance of Days Pale Ale, Ponzi IPA for just $90 + tax and pick it up during biz hours at Atlas Ivy City on your day of choice.
A sixtel equals 41 pints (that's $2.18 per pint)
Kegs require a $60 fully-refundable deposit
Beer Club members save 15%...no code required, well, just the honor code
Pickup is at Ivy City during biz hours (14 Days advance notice required)
Tax is already included in the pricing shown (keg deposits are not taxed)
We do not supply taps (but Total Wine does ;-)
Don't see what you're looking for? Give our Tap Room a call!
OTHER WAYS TO GET OUR BEER
You can get our beer delivered with DoorDash and UberEats, or visit one of the 2,000+ bars, restaurants and grocery stores in the DMV supporting our brewery.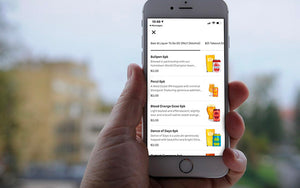 UBEREATS
Now offering our entire draft and canned beer line up when you order delivery from our Ivy City location.
DOORDASH
Get our entire draft beer line up plus delicious pizza from Andy's delivered from our Half Street location.