Silent Neighbor Stout Draft
A RICH PUMPERNICKEL STOUT FOR ALL SEASONS
Made with generous portions of rye and blackstrap molasses, Silent Neighbor Stout is more than meets the eye. Named as an homage to our neighbors in the historic Mount Olivet Cemetery, this stout has a hearty richness shrouded in mystery. It opens with notes of rye, chocolate, and roasted barley blended with rich molasses and subtle fruity bitterness. This whole grain belly warmer is the perfect haunt for any season.

BEHIND THE NAME
Silent Neighbor features a headstone on its label. Across the way in the Mount Olivet Cemetery dwells the legacy of Father of the Lager, George Juenemann, since founding his DC brewery in 1884. An eternal neighbor to the brewery, Juenemann rouses postmortem pints, sipping in silence and solitude.
OTHER WAYS TO GET OUR BEER
You can get our beer delivered with DoorDash and UberEats, or visit one of the 2,000+ bars, restaurants and grocery stores in the DMV supporting our brewery.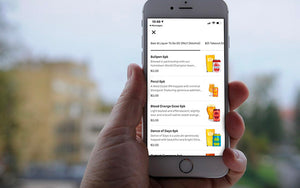 UBEREATS
Now offering our entire draft and canned beer line up when you order delivery from our Ivy City location.
DOORDASH
Get our entire draft beer line up plus delicious pizza from Andy's delivered from our Half Street location.