HORCHATA-INSPIRED GOLDEN ALE
Brewed with cinnamon, vanilla, and a whole lot of oats, this Horchata inspired beer was made to celebrate Hispanic Heritage Month. Cinnamon spice up front is smoothed out by the subtle hints of vanilla and oats. Available at the start of Hispanic Heritage Month on September 15th in the Ivy City Taproom.
ABV: 5.1%
IBU: 13.9
SRM: 6.5


OG: 12.1°
OTHER WAYS TO GET OUR BEER
You can get our beer delivered with DoorDash and UberEats, or visit one of the 2,000+ bars, restaurants and grocery stores in the DMV supporting our brewery.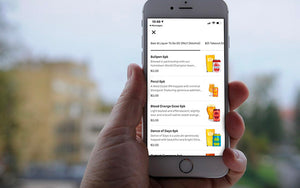 UBEREATS
Now offering our entire draft and canned beer line up when you order delivery from our Ivy City location.
DOORDASH
Get our entire draft beer line up plus delicious pizza from Andy's delivered from our Half Street location.